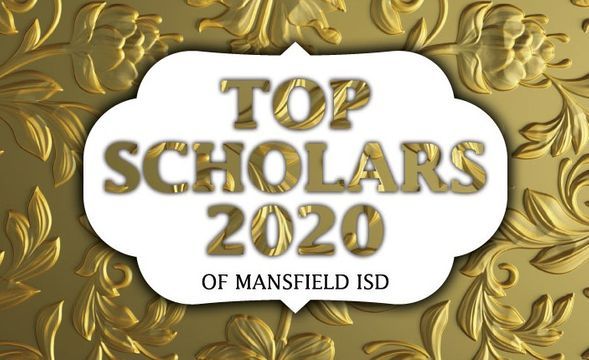 Celebrating MISD's Top Scholars
Congratulations to Mansfield ISD's Top Academic Scholars for the Class of 2020!
Being named one of Mansfield ISD's Top Scholars is no small feat. It takes not only brains, but years of being diligent in all aspects of a student's high school academic career. Even though Covid-19 guidelines have caused us to cancel the recognition event scheduled for May 4, 2020, the Education Foundation is proud to honor the Class of 2020's Top Academic Scholars and their academic achievements. 
One of the perks of being a Top Academic Scholar is having the opportunity to nominate an MISD staff member as a Distinguished Educator. Each scholar chooses that special person that has had a positive impact on, not only their academic career, but their life. Being named an MISD Distinguished Educator by a Top Academic Scholar is one of the highest honors an MISD employee can receive in their career.
How the Top Scholars are Selected
MISD Top Academic Scholars are the students with the highest GPA at their high school. The number of Top Scholars from each campus is determined by the school's UIL status.
6 A High Schools recognize the top 12 students.
5 A High Schools recognize the top 10 students.
Frontier High School recognizes the top 2 students. 
Meet the Scholars
Frontier High School
Christopher Phan
Zaid Rabbani
Lake Ridge High School
Aaron Libed
Michelle Nguyen
Avram Santiago
Vivian Nguyen
Chace Moncrief
Ashley Chuong
Christeen Nguyen
Kayla Baluyot
Abigail Nguyen
Benjamin Bathan
Denae Jaksik
Amy Morka
Legacy High School
Katelyn Pasierb
Isabella Estes
Yunah Song
Megan Novak
Elisabeth Harris
Bryan Andra
Leah Nguyen
JenniLee Johnson
Brinley Koenig
Ryland Mallett
Mansfield High School
Juliana Neniel
Velin Kojouharov
Ethan Nguyen
Christina Nguyen
Julia Brown
Tristian Fonseca
Emily Vo
Emily Willingham
Rachel Schellsmidt
Stephen Willis
Romana Marques
David Ventura
Summit High School
Trina Le
Daniel Cruz
Zoe Najar
Jodie Nguyen
Daisy Hernandez
Bushra Shoaib
Samantha Baker
Kara  Samstag
Heather Tran
Anthony  Nguyen
Benjamin Erickson
Caroline Caffey
Timberview High School
Sydney Su
Jeremy Pham
Ravi Ramkissoon
Rolake Feyisetan
Temitayo Aderounmu
Christina Nguyen
Tina Do
Breana Deanda
Paul Ihim
Daja Dansby
"The dream begins, most of the time, with a teacher who believes in you,
who tugs and pushes and leads you on to the next plateau."
             - Dan Rather
Meet the Distinguished Educators
Monica Abrams
Daniel Allgire
Brandon Austin
Milt Barnum
Priscilla Blanton
Cindy Bridges
Siddharth Chatterjee
Heather Colburn
Lisa Cole
Kali Curry
Melissa Danforth
Peter Downing
David Dunbar
Charlene Dunham
Jodi Esaili
Angela Fore
Allison Foster-Haliburton
Stephanie Garrett
Mandy Gent
Larry Harmon
Casey Harris
Ashley Hicks
Patricia Johnson
Sara Kamphaus
Ashley Kavanagh
Doug Klaudt
Sara Lewis
Sharon Lewis
Rena Long
Leland Mallett
Erica Marburger
Gerald McCall
Emily McCollister
Jennifer Messer
Eric Mullins
Andrew Nance
Corey Nieman
Christopher Peralta
Jonathan Ramon
Melissa Rendón
Joshua Rhoades
Howard Ritz
Kenya Ross
Rachel Ryan
Jennifer Sanders
James Schanzer
Stephanie Shackelford
Leigh Ann Smith
Linn Thatcher
Beverly Ver Steeg
Emily Waneck
Jessica Watson
Dawn Welch
Thomas White
Dallas Williams
Jessie Williams
Cheryl Wisch
Michael Withers